Municipal Indoor Sports Centre "Fernando Argüelles"
It is located on Antonio Mohedano St., with a capacity for 2,500 people. It includes a 44x26m floating parquet court.
It was officially opened for the first time on the 10th of August of 1980, although its facilities were renovated in 2006, when the Antequera Handball team was promoted to the ASOBAL League.
This facility is included in a bigger sports complex, with artificial turf fields and several swimming pools, and it comprises 6 collective changing rooms, 4 individual ones, anti-doping room, press room, multipurpose room, weights room and sauna.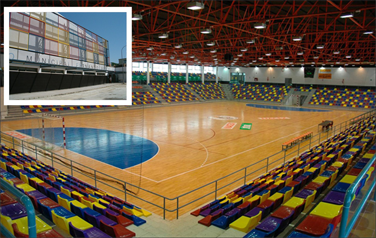 Technified Indoor Athletics Sports Centre of Antequera
The Technified Indoor Athletics Sports Centre of Antequera is unique in Spain, which makes it an emblematic facility at both national and international levels.
The facility boasts a 100x70 indoor pavilion, which means a sports surface area of 7,000m2 including an athletics 200m oval banked track that counts on a hydraulic system, making it possible to have the whole sports surface even for the practice of other sports or activities.
The permanent grandstand seating capacity goes up to 2,010 spectators. The sports centre counts on toilets, various administrative areas, press box, different collective changing rooms for teams, officials and referees, several multipurpose rooms,...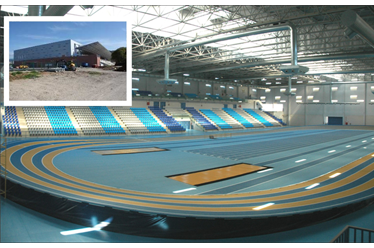 Municipal Indoor Sports Centre "El Maulí"
The "El Maulí" Municipal Indoor Sports Centre is located just 400m away from the Fernando Argüelles Municipal Sports Complex and 500m away from the Technified Indoor Athletics Sports Centre. This Sports Centre is located in front of the Antequera Golf Hotel, and is usually where the competitions of the schools in Antequera take place, as well as the affiliated matches of the Handball Antequera Club"s lower categories. This new facility was built in 2004, with a new synthetic sports surface installed in 2006.
The facility counts on a 44x23m synthetic playing area. The place forms a part of a sports complex with tennis and paddle tennis courts, grandstands for up to 500 spectators, as well as 4 collective and 4 individual changing rooms.