Spain is a country member of the European Union located in southwestern Europe on the Iberian Peninsula. Its mainland is bordered to the south and east by the Mediterranean Sea; to the north and north east by France, Andorra, and the Bay of Biscay; and to the northwest and west by the Atlantic Ocean and Portugal.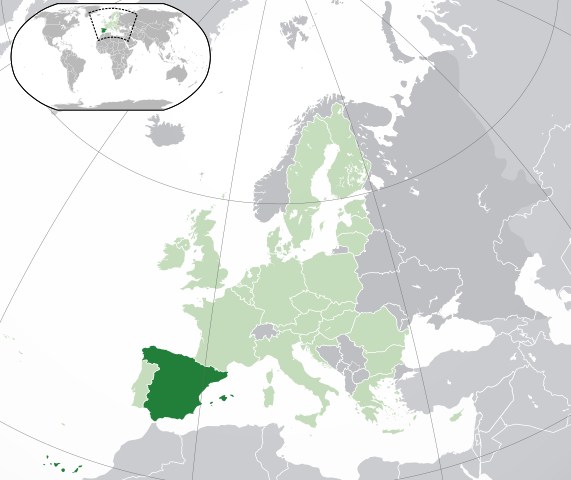 Spanish territory also includes the Balearic Islands in the Mediterranean, the Canary Islands in the Atlantic Ocean off the African coast, and two autonomous cities in North Africa, Ceuta and Melilla. With an area of 505,992 square kilometres (195,365 sq mi), it is the fourth largest country in Europe.
Because of its location, the territory of Spain was subject to many external influences since prehistoric times and through to its dawn as a country. Spain emerged as a unified country in the 15th century, following the marriage of the Catholic Monarchs and the completion of the reconquest, or Reconquista, of the Iberian peninsula in 1492. Conversely, it has been an important source of influence to other regions, chiefly during the modern era, when it became a global empire that has left a legacy of over 500 million Spanish speakers today, making it the world's second most spoken first language.
Spain is a democracy organised in the form of a parliamentary government under a constitutional monarchy. It is a developed country with the twelfth largest economy in the world by nominal GDP, and very high living standards, including the tenth-highest quality of life index rating in the world, as of 2005. It is a member of the United Nations, NATO, OECD, and WTO.
General Information
Population
47.190.493 people
Capital
Madrid
Area
505.992 km2
Currency
Euro (€)
Time Zone

CET (UTC+1)

CEST (UTC+2) - Summer

Official Language
Spanish
Weather
Spain has a predominantly warm Mediterranean climate, with dry summers and winters with balanced temperatures. More than 3,000 hours of sunshine per year can be enjoyed. It is no surprise, then, that this is one of the warmest parts of Europe.
What type of clothing should I pack?
In Spain, it is usually not necessary to pack warm clothes in summer. However, as Antequera is inland, it's not a bad idea to pack a jacket, in case some night gets chilly.
Emergency numbers
Police: 091
Emergency: 112
Phone calls
To make a call to Spain from abroad, you should dial +34 (the code for Spain) followed by the telephone number (9 digits)
To call another country from Spain, then dial 00 followed by the country code and the telephone number. You can make calls from phone boxes. These work with coins or cards available from "estancos" (licensed outlets for tobacco/stamps).
To make national calls within Spain, just dial the number without the prefix. This number should have 9 digits, regardless of whether it is a landline or mobile
Mobile bands
To use your phone in Spain you should be aware that coverage here uses GSM technology, meaning that it is incompatible with some countries such as the USA or Japan. In this case you will need a tri-band mobile in order to call. If you have a compatible handset, you should get in touch with your mobile phone company to make sure that you can use your mobile in Spain (they will activate the international roaming service on your account). Once you've taken these steps at home, you'll be able to use your mobile in Spain as if it were a Spanish handset: i.e. you can dial 00 + the country code to make international calls.
Tap water
Drinking water supply is guaranteed throughout Spain. We have stringent control systems that guarantee water quality. Nevertheless, in some Mediterranean coastal areas consumption of bottled water is widespread.
Electricity and plugs
Electricity supply in Spain is AC 220 volts, 50 Hertz. Sockets meet European regulations and use the round pin system. Make sure that the electrical appliances you are going to use (computers, mobile phone chargers, shavers…) work at this voltage, or that you bring the correct adaptors.